This past weekend, I accompanied Yvonne on her Castle and Defensive Fortifications class field trip to Wexford, along the southeast coast of Ireland. The day started out shakily as we recovered from the shock of discovering that Yvonne's nemesis, Big Gay Matt (I can't quite recall the origin of this name; it may be derived from the fact that while Matt is not gay, he bears a remarkable resemblance to a slightly-melted Ken doll) had brought along as his guest my classmate Joseph—the really pretentious one who kept wanting to talk about Alice in Wonderland "from a post-colonial perspective." Sometimes? The world makes far too much sense.

But ANYWAY, they proved remarkably easy to ignore, as Wexford was wonderful, and aside from a brief interlude of hail while we were safely ensconced at the Templars' Inn pub (if you're ever in Wexford, don't eat there: they overcharge), we had glorious weather. And I took an obscene amount of photos—literally, until my camera battery gave out on me. So come, see...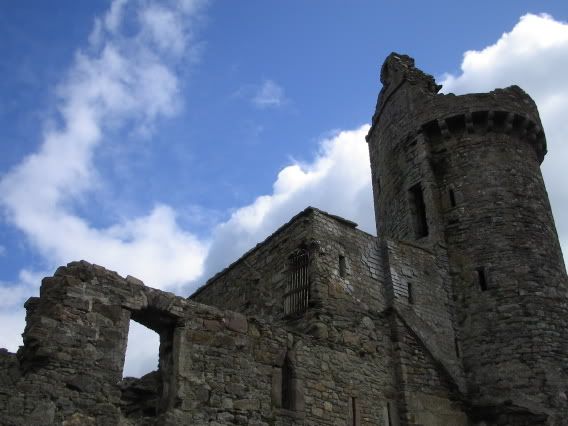 This is the first castle that we saw. The best thing about it was that it was just sitting in the middle of a field. Part of it seemed to be being used as a dumping area for empty beer cans. It was rather like that Eddie Izzard routine: "Another fucking castle? Have to drive around the bloody thing now..."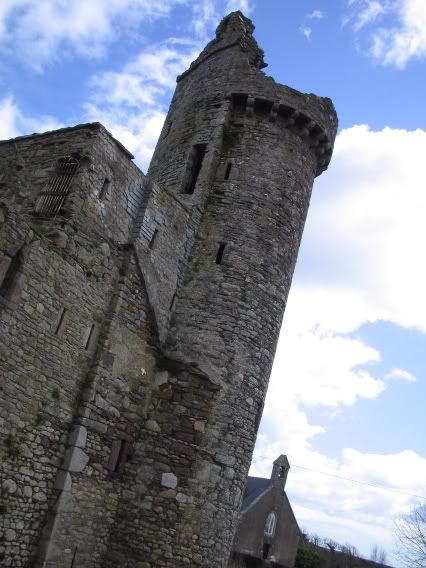 And again, but from an arty angle! I wanted to get the full tower AND the weird little church in the background in the shot.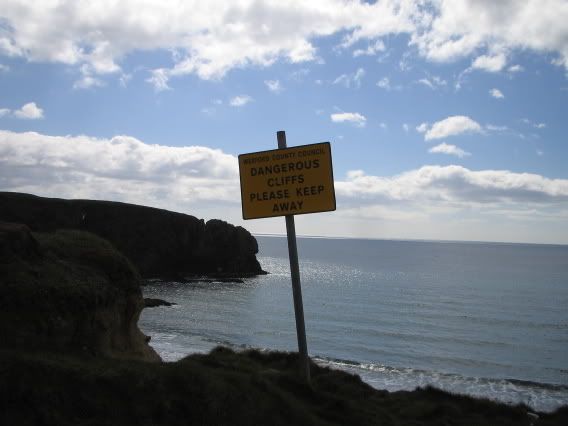 We drove down to the coast, near Hook Head. A bus full of intelligent academic types, all of whom pretty much decided to disregard this sign.



The grass here was the spongiest grass ever! Like a trampoline! I bounced, as I am four.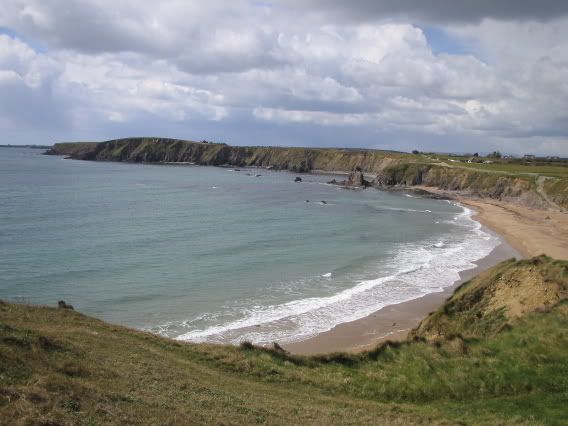 OMG, so pretty. It reminds me a bit of the California coast, actually.



Brendan and a...limehouse? I think? Or something historical, anyway. In a hill!



Rain, out over the sea. It looks almost like the cone of a tornado.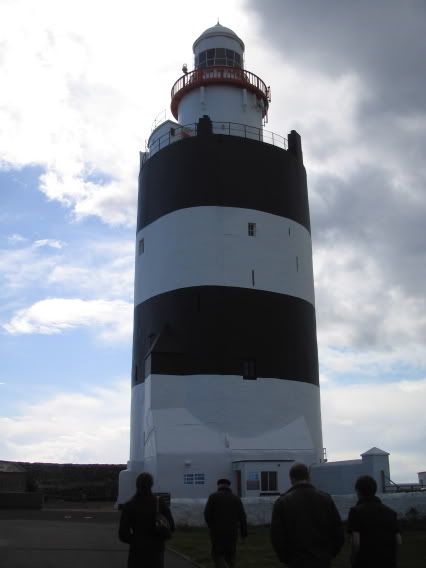 The lighthouse at Hook Head. Built in the 12th century. Inhabited by monks! (To clarify: not anymore.)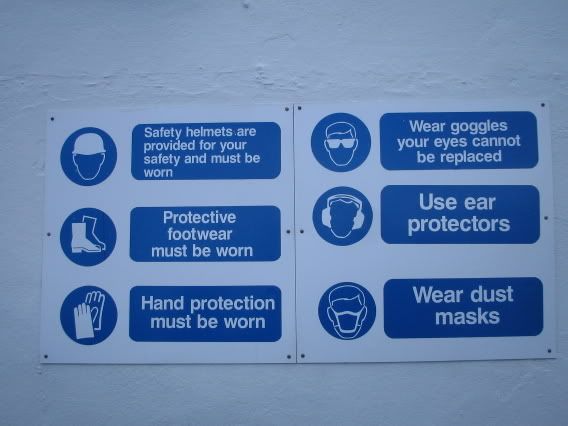 Posted outside the lighthouse entrance. Check out the top right hand corner. *dies happily*



Our guide for the day, Billy Colfer, father of Eoin Colfer, author of the Artemis Fowl books. I've never read them and Yvonne hates them (you should have seen her describing "LEPrecon" to me—there was spittle!), but we mustered up enough tact not to say anything. Instead I took a moody picture!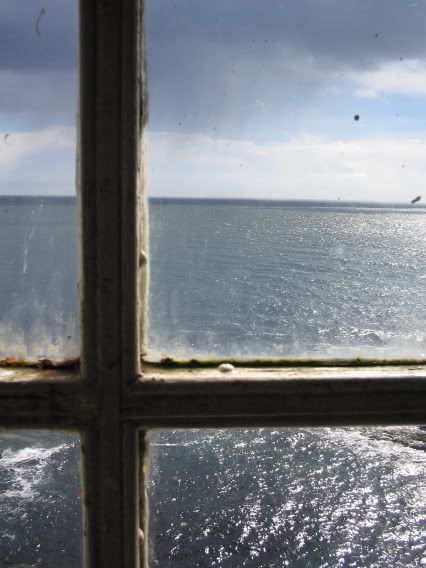 The view from one of the lighthouse windows. When I was younger, I went through a brief phase of thinking it would be cool to live in a lighthouse. Anybody else have one of those? Anyone? Bueller?



Ha, okay: this is a blow hole. Apparently, water wells up and spurts out of the rock, like with a whale's blow hole. But sometimes, as with this one, they collapse. The best bit, though, was that there was a sign that said: "Caution: Blow Holes." Sadly, I could not get a picture of this. *woe*

And now we just have a lot of gratuitous pictures of the sea being obnoxiously pretty:




In these two it kind of looks like I'm on the prow of a ship: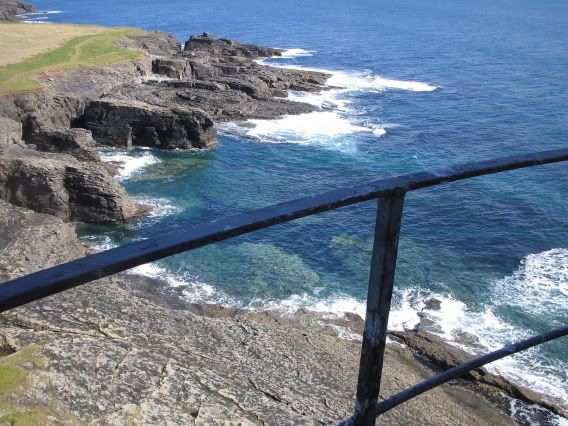 Top of the lighthouse though, actually. I'm sure you gathered. *g*



Oh, Mother Nature. A+!



This is looking back toward the mainland. You can see the incursions of blue on both the right and the left: this was me trying very hard to show that we were, in fact, on a peninsula.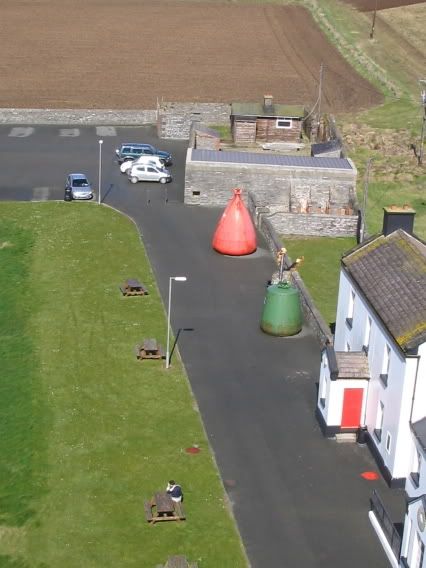 I loved these big red and green buoys. Mostly because they look like the Daleks' bastard cousins.



Oooh, shadow! I dunno, I thought that was cool.



We hopped back on the bus and drove to Slade. There were boats! Really cute boats! And in the water, fish! (I live in a city, can you tell?)



The tower house we were supposed to be viewing was locked, so Yvonne's lecturer performed a little bit of castle B&E.

(Note lobster traps stacked by the castle door. I think that's awesome. Slade is awesome. We should all move to Slade and start a commune. There's even an old manor house near there—and it's for sale!)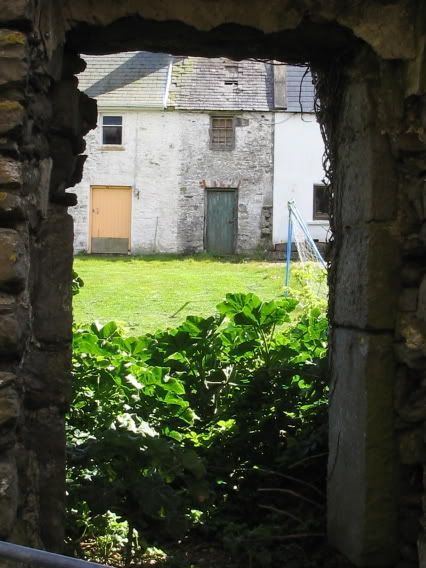 While the criminal offenses were going on, I checked out some of the surrounding buildings. These homes are right next to the castle—its neighbors. Check out the football net.



Inside the castle. You could shout across, asking to borrow a cup of sugar...or unleash a barrage of flaming arrows!



The castle was built in the 14th century, but it was later (in the 18th or 19th century?) converted into apartments. Yes, you could rent a flat that was in a castle. See nifty brickwork.



And again, from another angle.



We seriously were allowed to clamber all over this castle. I took full advantage of this. This is me up on a...I dunno, looking down at Yvonne and...I dunno who. But it was fun!



The tower. We got to go up there, too!



"Hey, Yvonne!" I said. "I'm gonna take your picture in this here tower." And the foolish girl tried to flee from me and my vast photographic skill. At which point she fell over into a pit of pigeon shit.

As her friend, I of course found this hilarious.



Dude, I'm on top of a castle! (Unfortunately, Big Gay Matt's girlfriend got in my frame. Grr.)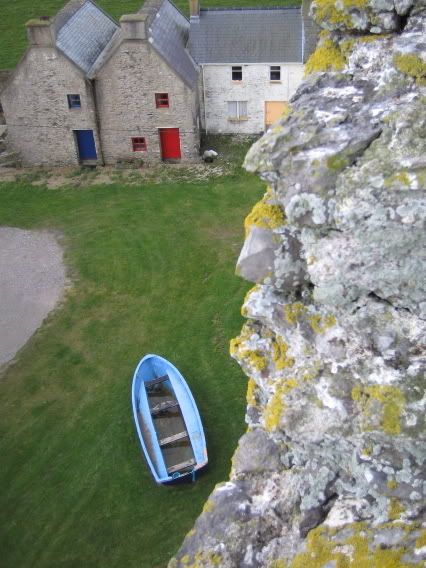 Looking down at my much-adored houses with the red and blue doors. And a boat! A boat on the land! Filled with water! Man.



The body of the castle, as seen from the tower. And again: yes, boats!

And finally: I capture the castle, beyotches!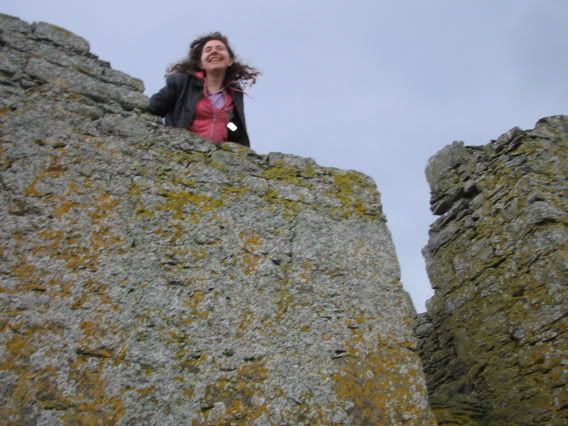 I think Leonardo DiCaprio must be hiding behind that battlement. But never fear! MY HEART WILL GO ON!