I'm back from Scotland! I had an absolutely fabulous time--it's a great country, full of terrific people, and I want to go back, like, now. Or before the end of the school year, definitely. Anyway, as I'm sure you can guess, I took some pictures, so here is a brief (and extremely geeky) account of what we did.

Yvonne and I had a unique way of getting to Glasgow...



We took the TARDIS!

Seriously, old police boxes are EVERYWHERE in Scotland. Either the Doctor is planning a retirement community, or this is the Scottish government's way of separating out the geeky tourists from the regular ones.

Anyway, in Glasgow, we met up with Clare and immediately went to get a nice cuppa. For much of the rest of the trip, everything we did became like the set-up to a bad joke: "A Scot, an American, and an Irishwoman walk into a bar...er, a tea room..."

We took the train to Falkirk, where we were put up by the wonderful Ash and Chris, who introduced me to the wonders of Green and Black's chocolate and Bill Bailey stand-up, and fed me Chinese food, hot cocoa, and MARSHMALLOWS. Even discounting Chris' amazing ability to...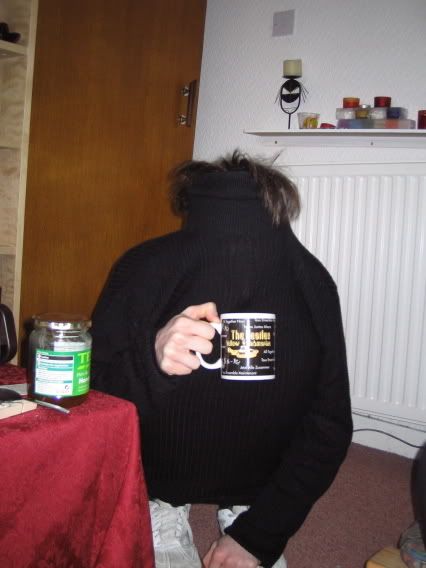 ...disappear entirely inside his jumper, they were pretty much the best hosts EVER.

The next day we went to Edinburgh, where we met up with Eliza. It was raining pretty heavily, but Edinburgh was still incredibly beautiful.



The view from Waverley Bridge and the statue of some dude.



Edinburgh Castle and the statue of some other dude.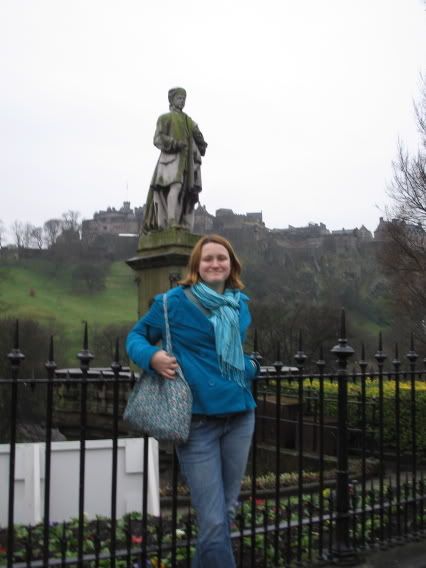 Eliza and that same dude. Note how she's exactly mimicking his position--I'm not sure if this is accidental, or indicative of some far more sinister purpose...



Adding to the mystery, the enigmatic Clare would only let me take pictures of her from behind. Perhaps she is wanted by the CIA? MI-5?

We wandered around for a while, exploring. Eventually, we ended up at the World's End pub...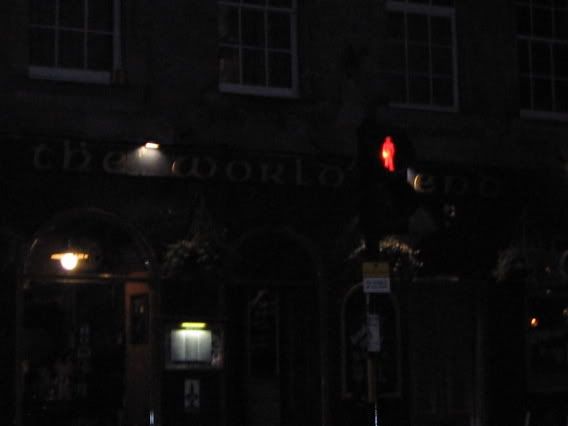 ...which delighted the three of us who had read Sandman. We commandeered a booth in the back, and discussed many dorktastic subjects whilst eating Puddle Pudding. Our waiter was very cute, and very good to put up with us--I think he had a bit of a crush on Eliza.

We stayed the night at the High Street Hostel, in front of which I deigned to pose dorkily:



The rooms were all themed; we were in The Psych Ward. I had the Psycho bed; Yvonne, the Nympho bed. Unsurprisingly, the girl in the Agoraphobic bed didn't seem to go out much.

The next morning, we set out again, intending to do touristy things.



I know this is dorky of me to say, but I love how OLD Scotland is. I mean, just LOOK at it!



There are CASTLES!



Closes with COMPLETELY innocuous names!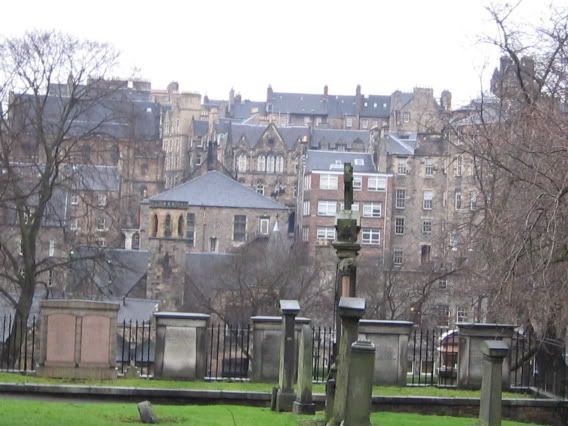 And CEMETERIES...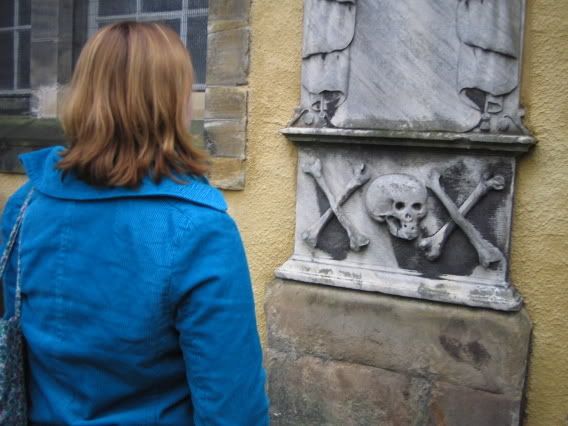 ...with PLAGUE VICTIMS.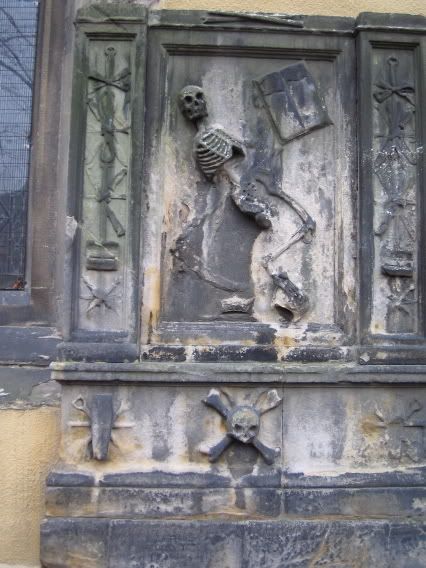 For serious.

Not to mention...



HAGGIS!

Which is delicious, actually. I ate mine all up, and enjoyed it muchly. I would be more surprised, except it's already turned out that I really like black pudding, so...

After lunch, we ducked into a little wannabe Hot Topic shop. They had a shirt memorably inscribed with the words Cover me in chocolate and throw me to the lesbian's, which induced many amused cries of "The lesbian's WHAT?"

Stilly giggling, we went to Greyfriar's Kirkyard...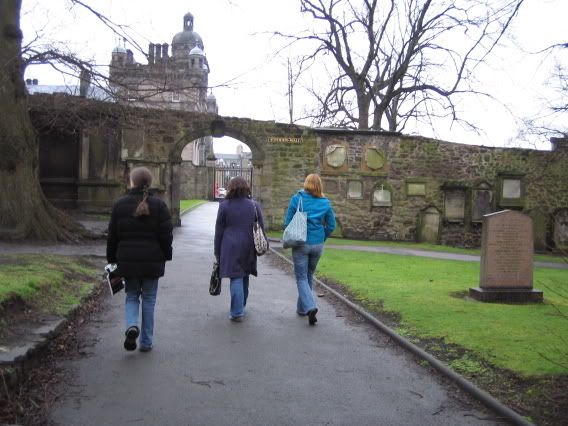 ...which is right down the street from the café where J.K. Rowling used to write. I wonder if she ever used to stroll through it when she needed inspiration?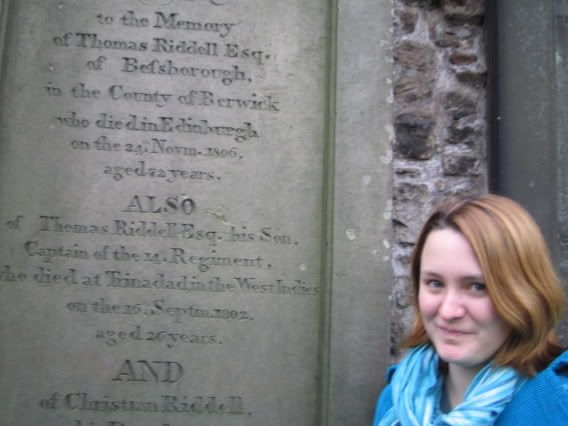 Eliza ponders this question.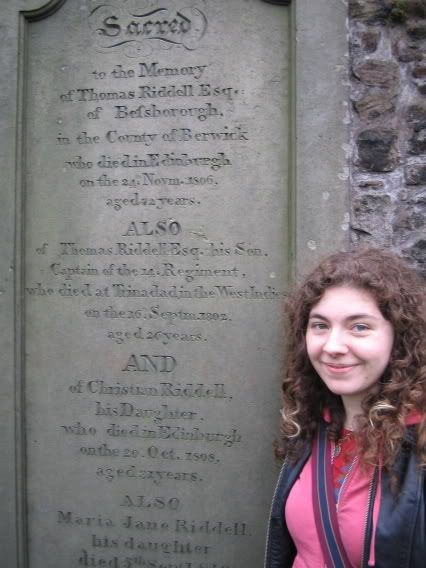 But I guess we'll never know!

Finally, we trundled home with Clare to her house in Ayr. We ate Nutella! We took showers! We watched TV with her deacon parents in the room, which was really amazingly awkward! Then the next morning, we wandered around and looked at the books in charity shops and engaged in a very successful Turkish Delight-acquiring mission before hopping on the train...I mean, in our TARDIS. Back in Ireland, Yvonne and I collapsed in her sitting room and attempted to watch Olympic curling. All vacations should be this wacky, and this much fun.

Happy Valentine's Day, everybody!