Happy New Year, one and all! Sorry it's been a while since my last update, but I've been busy with the end of my first term at Trinity; with Mom, Dad, and Daniel's visit to Dublin; and more recently with...other things. WARNING! The following story is not for the faint of heart!

*gives you ample time to get out*

Okay! So, in the last few days, I've:

1) Drunk absinthe;
and 2) Gotten violently ill.

Not in that order. *g*

What happened was this: Friday I woke up with positively the worst case of food poisoning I--or, I am still somewhat convinced, anyone has ever had. I had to cancel my plans with Karen, and spent the entire day unable to get out of bed except for when I was dragging my sorry self to the bathroom. What a perfect farewell gift from 2005! Finally, a little after 10 p.m. I made one last stumble across the room to turn out the light, then collapsed back into my bed and slept for over 12 hours.

I woke up feeling, if not Magically All Better, then much less likely to pass out when I tried to take a shower, which was one of Friday's more entertaining interludes. When Karen texted me to make sure I wasn't dead before inviting my reanimated corpse to a New Year's party with her, I decided I was well enough to go based on the fact that I was really, really bored. I got the DART out to Glenageary and met up with Karen, who fed me yummy Malaysian food--the first thing I'd been able to keep down in almost two days. Then we watched part of The African Queen, raided (with permission!) her parents' liquor cabinet, and walked down to Dun Laoghaire for the party.



Karen raiding her parents' liquor cabinet.

At this party, there were lots of people I didn't know:



They all looked cooler and moodier when I took the flash off.



There was also lots of food, as Karen was kind enough to point out.


Karen demonstrates her love for the food, and, in fact, the entire kitchen table.

Early in the evening, Andie saw fit to protect herself...


...by applying Care Bears Band-Aids to her nipples.

Emma and Liam were (I think) two of our hosts.


Here they demonstrate the dangers of having an evil hand.



A still life: gift bag, plant, lava lamp, Coke bottle. I am an artisté!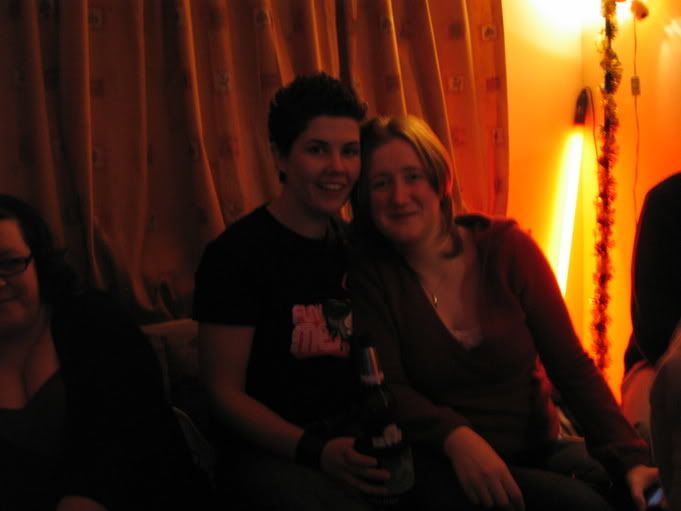 Natalie and Emma.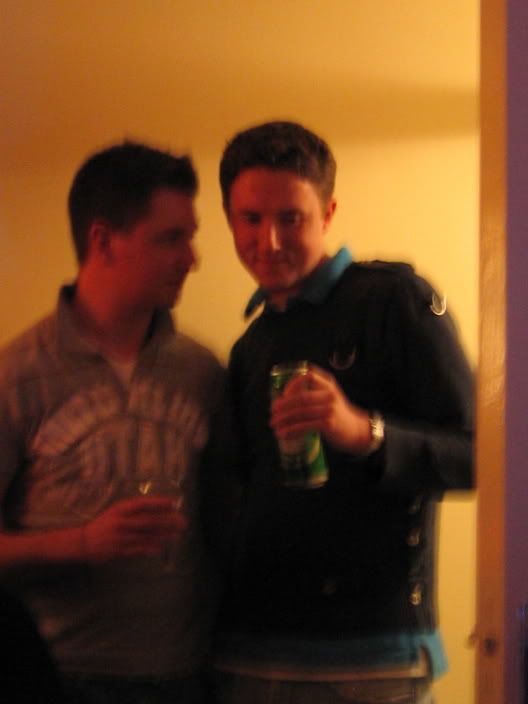 Liam and Owen.



Andie's true love was her blender.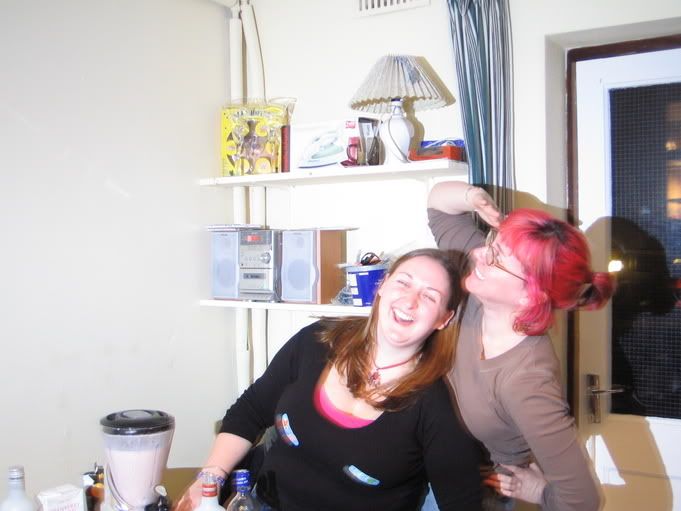 Karen salutes it! Well, she's saluting something.

At some point in the evening, I stole Karen's jumper.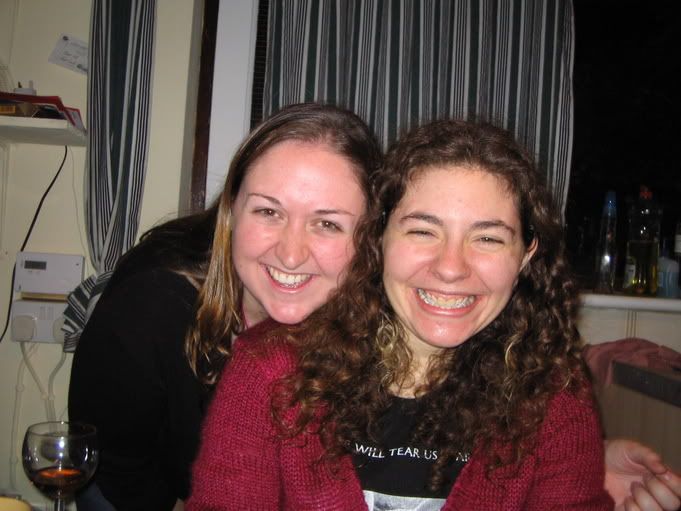 Me and Andie.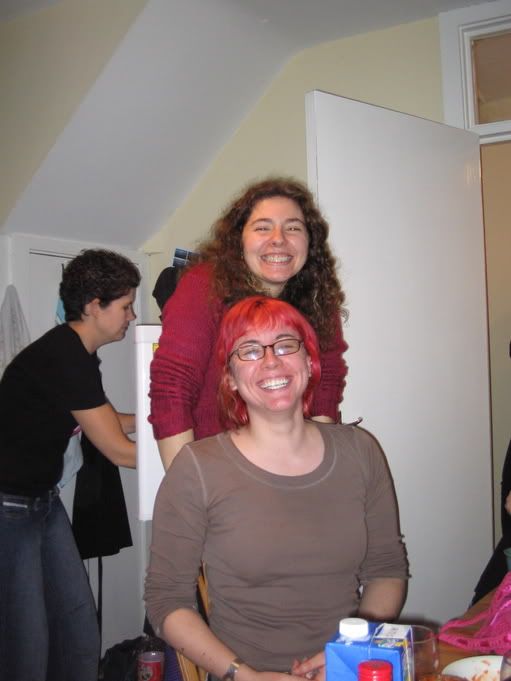 Me and Karen.

Less than three minutes to midnight!


Forget Dick Clark; we got a Scottish anchor in a kilt!

After the fireworks at the London Eye and a raucous round of Auld Lang Syne right in our own living room, it was time to meet...


...the Green Fairy!



We poured different-sized shots into this spinny thing; only FATE could decide if you got a big shot or a little one. (Mine was medium-sized.)



The guy on the right is the one who smuggled in the absinthe in a cognac bottle. Supposedly, it hailed from the Czech Republic. (By the way, the red eyes are not a photographic glitch--that is the Green Fairy at work!)



Hm, how does it go again? Wine before beer, you'll feel a bit queer; beer before absinthe, you...I can never remember!



Action shot!

So I, too, knocked mine back. And actually...well, it tasted bad, and it really didn't do much for me. Maybe you actually have to prepare it properly, as opposed to smuggling it into a New Year's party in a cognac bottle and then doing spinner shots, or maybe I was already too wasted on food poisoning, wine, and Andie's blender babies, but I didn't get noticeably drunker, I didn't see Kylie Minogue slapping her ass, and I didn't randomly sleep with some guy, get tuberculosis, and waste away in a Parisian garret. (I'd already done that Friday.) Instead I stumbled home with Karen--pausing to randomly embrace a drunken man who claimed to be from Cork but sounded like he was from Bulgaria and looked like Viktor Krum to boot--changed into my new flannel PJs and cuddled up in Karen's guest room, where we made it our mission to watch Stargate: Atlantis drunk. This proved to be remarkably like watching Stargate: Atlantis sober: it's crack no matter what your blood-alcohol level. I was more than usually fascinated by John's hair, however.

The next morning, we summarily ignored the entire concept New Year's resolutions by lounging around in our pajamas for hours. Eventually we decided we needed some fresh air, so we walked over to Dalkey, which is an adorable little town with a good bookstore and a nice, big pub. (If they built a movie theater, I could just about live there.)

I took some pictures of Coliemore Harbour: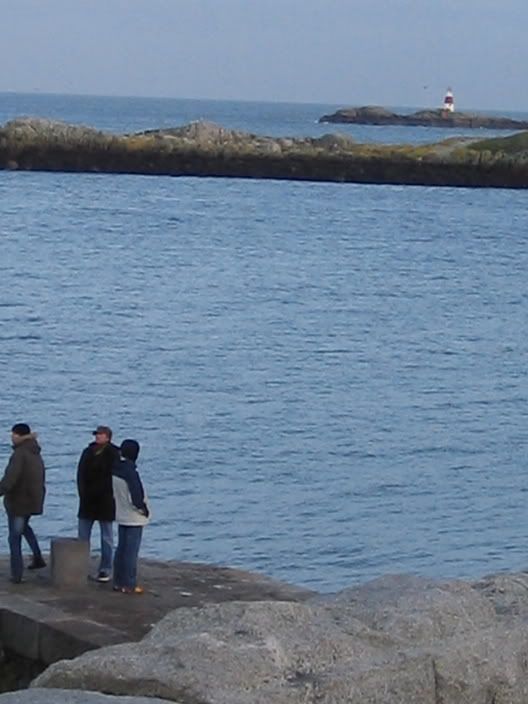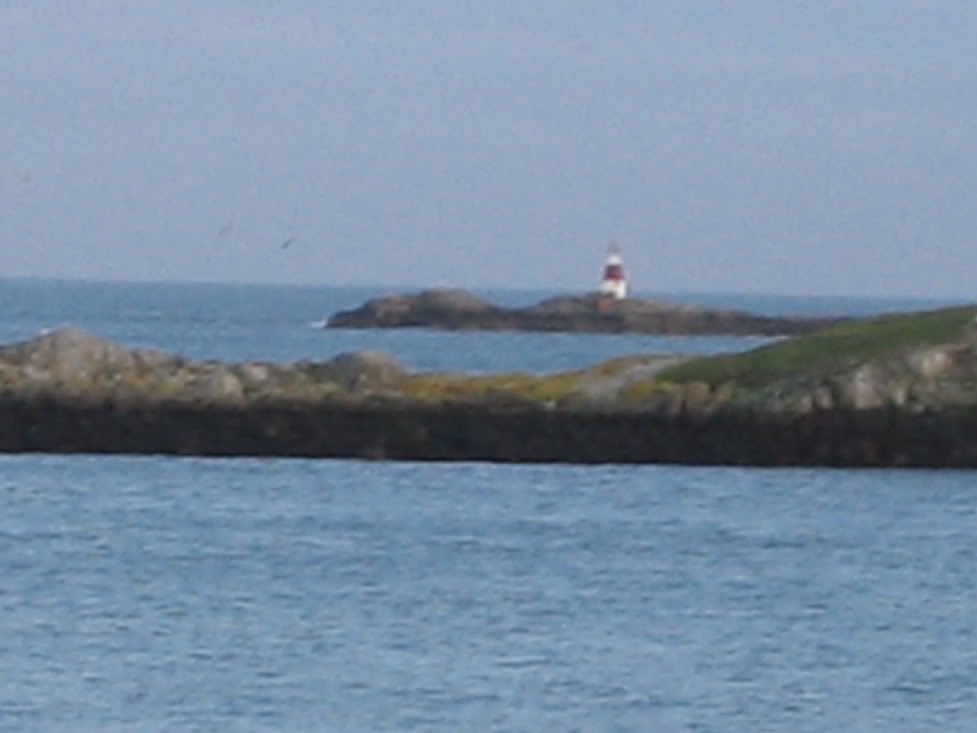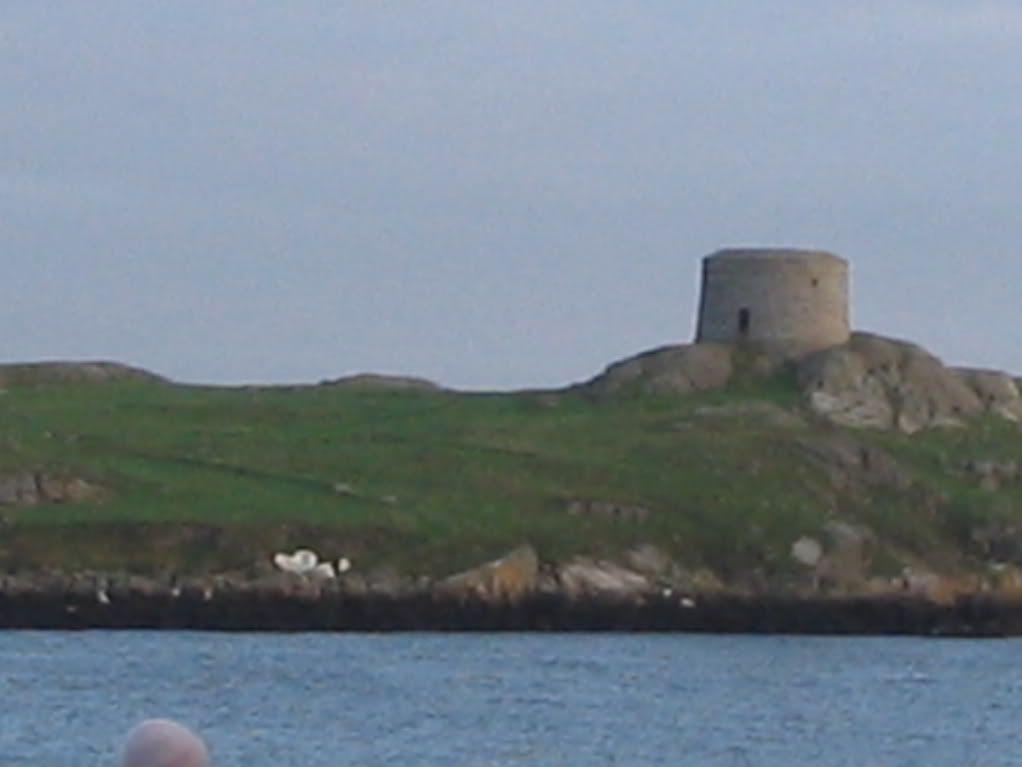 This is one of the Martello Towers, which were built between 1805 and 1812 to ward off a potential invasion by Napoleon. Joyce Tower in Sandycove, the tower at the opening of Ulysses, was one of these fortifications.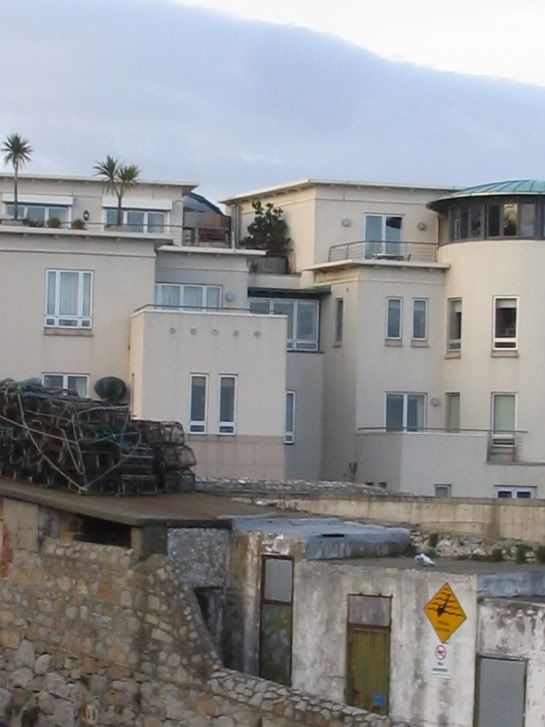 I love the combination of palm trees, we-wish-we-were-Mediterranean-villas, and lobster traps.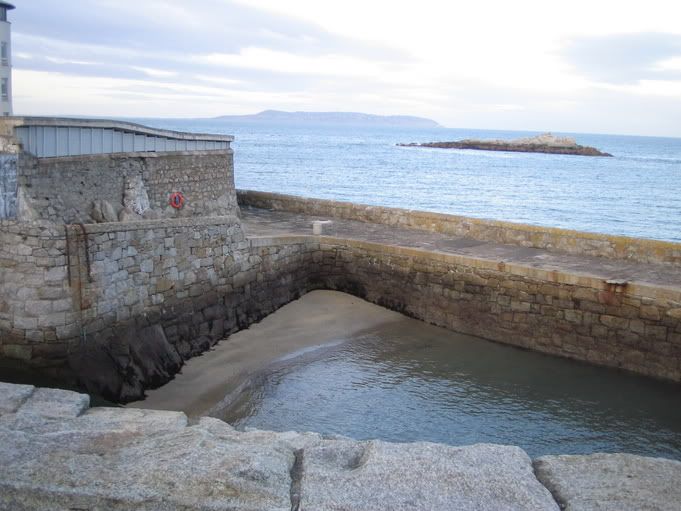 I think this little inlet is really pretty.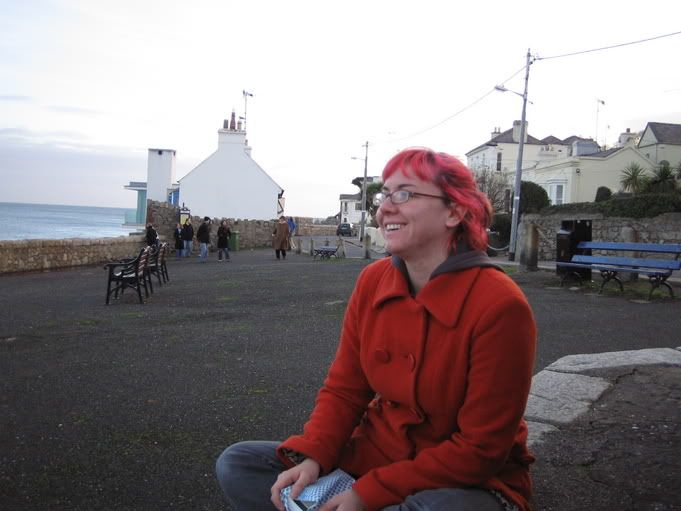 So's Karen.

Anyway, it's been a pretty good resurrection so far. I'll post some pictures from the family trip to Dublin soon; I hope your 2006s are also going well! Please, drop me a comment or two and let me know. =)